Make your Audits Fast, Efficient and Focused
---

Smart Data
Ingestion
Spend less time in data preparation and load data automatically.

Complete
Data Analysis
Analyze and score
100% of general ledger transactions.

Improve
Detection Effectiveness
Transaction can be cross correlated revealing relationships and patterns.

High
Assurance
Stratified risk-based
sampling for improved audit quality.
Ai Auditor™
Complete solution to your audit planning, testing and reporting needs.
---
Ingest Data Automatically
Seamless Integration with most accounting software like Intacct, Netsuite etc. with automatic account grouping.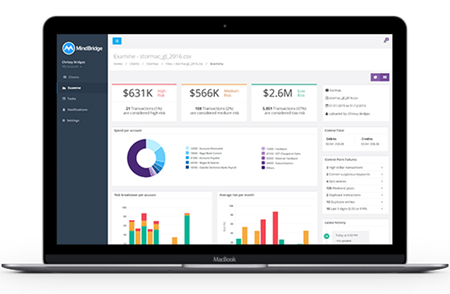 Fully Interactive Visualizations
Easy to use interface Our simple pre-built visualization and interactive engine guides you to discover and report key findings effectively.
Find anomalies across 100% of General Ledger:
Unique Control Point Insight (CPI) architecture uncovers material irregularities, outliers and anomalous transactions covering 100% of the transactions for increased audit accuracy and rigour.
Built with latest cyber security best practices
Our ever-evolving architecture is built to comply with latest cyber security standards. This allows for a secure and safe environment for your client's financial data.
Meet and Exceed to Current Audit Standards
The solution is built to comply with SAS99, CAS240,IAS240 and is continuously improving based on industry and academia feedback..
No Training Needed
Irregular or erroneous transactions are automatically flagged. Complex queriescan be made by clicking a box or moving a slider requiring no scripting.
---
---

The Finance Department Limited (TFDL) is an authorized partner and reseller of MindBridge Analytics Inc. — a venture-backed FinTech company based in Ottawa, Canada.
MindBridge introduced the world's first commercial AI Auditor platform to analyze financial transactions and reports, organizations across multiple industries can leverage artificial intelligence to minimize risk exposure to financial loss and corporate liability. The platform provides a next-generation experience that provides intuitive insights to enhance professional judgment by focusing the analysis on the most relevant unusual activities.
MindBridge™, MindBridge Ai Auditor™, Ai Auditor™ are all official marks of MindBridge Analytics Inc