Revolutionizing the Way You Recruit, by Removing Upfront Costs
We listen to our clients and constantly ask questions about how things can be made better. Through research undertaken by our dedicated Small to Medium Sized Business Team, it became apparent that the traditional way upfront external recruitment fees were structured was a big problem for SMB owners and finance departments. Whilst the need to place financial talent into their businesses was critical for the continued success of their organization, it was felt that upfront costs were designed with the recruiter in mind and did not address the business realities that SMBs face on a day-to-day basis.
Why it isn't working:
• A big, upfront fee puts pressure on cashflow and adds to perceived risk
• If the candidate leaves after six, eight or nine months the company is out of pocket
• It leads to the use of internal staff and resources, wasting a huge amount of time and energy without any guarantee of success or a right fit
So we've changed the game.
How it Works: PAY-AS-YOU-GO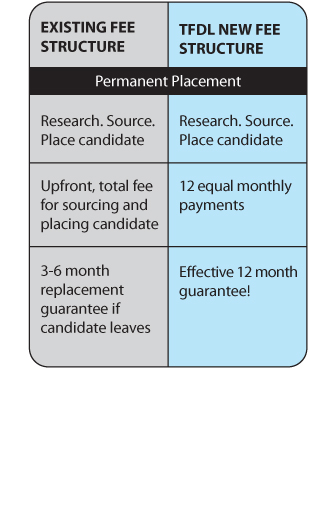 By switching from an upfront fee structure to our "Pay-As-You-Go" approach, you will be able to spread the cost of hiring across 12 months, enabling you to pay for the hire's expertise as you are directly benefiting from them in your organization. A completely risk free and manageable approach that puts you in the driver's seat.
And you still gain access to over 20 years of financial recruitment experience delivered by industry-leading recruitment professionals who use their expertise to find the right fit for your recruitment needs – it is our pricing, not our process that has changed. The same great service, just a more level playing field when it comes to billing.
The TFDL Pay-As-You-Go approach:
• Takes the pressure off hiring decisions as you're only paying for services as you receive them
• Removes the risk associated with wrong hires
• Covers you every step of the way, for a period of one year
• Allows you to take control of your spend
Where's the Catch?
No catch. Just a better way of working. It's all part of our 'Smart people. Smart thinking. Smart business' approach that puts common sense and mutually beneficial relationships at the heart of everything we do.
We can make this offer because we know that our process and the candidates we source will fit seamlessly into your organization – exceeding your expectations for both permanent and contract hires.
It really is that simple.
Get in Touch
Take the headache out of financial recruitment – contact our dedicated SMB Team today at 416-849-2970 or email smbteam@tfdl.com